International Admissions
Calvary Academy has experienced many years of successfully educating international students. This experience has given us a perspective that may be helpful to you as you consider enrolling at our school. As you may know, we are not a boarding school. Typically, our international students reside with host families from our school or church community. Research has proven that students gain proficiency in English more quickly when they are able to reside with an American family, then with a family within the same language and culture background.

Entering school in America is a very difficult challenge. When confronted by a new culture, language, and school, it can be extremely stressful. Therefore, it is important that the students have strong academic skills, solid personal character, a desire to grow in Christ, and a level of maturity that allows them to assume serious personal responsibility for daily living.
INTERNATIONAL APPLICATION PROCESS: The application process and tuition schedule is not the same for international students. International students interested in applying to Calvary Academy must email: for further info.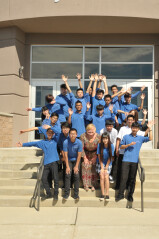 Some advice we would have for parents and students considering an education at our school is:
Develop as much English proficiency before arriving in the U.S.
Select activities in addition to your classes that provide a time for more socialization like yearbook, music and sports.
Apply yourself diligently at your academic work.
Ask questions freely with boldness.
We have noticed that a level of English proficiency before coming to Calvary Academy is a key to success. This is especially true if the student is to enter grade 9 or above. High school credits are critical for graduation and college acceptance.

Since students will be living in American host homes, it is important that you understand our perspective on this arrangement. Some schools and or families would view this as a boarder/renter situation. This is not how it is viewed by us. The monthly stipend is to cover room, board and supervisory responsibilities, but the international student is expected to become part of the host family, and they truly do feel this way as they spend more time with them.

Points of information related to host family arrangements:
Normal standards of the home apply to the international student.
The student is expected to attend church and youth group activities with the family.
Conferences at the school and report cards regarding a student's work will be for the host family to address.
The student will not have host home services during the summer months unless arrangements are made due to summer classes.
The host family will provide transportation for academic tutoring, music lessons, or other normal needs.
The length of commitment of the host family is for only one academic school year, but may be renewed.
Calvary Academy participates in the Federal Department of Immigration's Student Exchange Visitor Program. This program allows students with the appropriate visa to come to Calvary Academy for their elementary or secondary education.
This arrangement is mutually beneficial, allowing the international students to experience American culture and society, and allowing the Calvary Academy student body to benefit from an integrated, multicultural experience.
We currently have international students from 4 countries attending our school and sharing their experiences with us. They benefit from an active ESL (English as a second language program) that is offered in high-school and middle school.
The Global Challenge to International Students
In today's global economy, the international emphasis is the interconnected world. The best way to succeed in the fast pace of change is to get an international education. As a student at Calvary Academy, you will gain the knowledge, skills, and insights that will make you competitive in your choices for colleges and universities.
Every day, you will have many opportunities to learn about the American culture in Mid-Atlantic, New Jersey. Multiple experiences abound in the application of the English language through art, music, literature, religion, science, business and politics. Most important, you will be able to learn about your own abilities and potential.
If meeting exciting challenges in a new country and learning the fine points of the American culture is appealing to you, then it is time for you to attend Calvary Academy in Lakewood, New Jersey, located less than 65 miles south of New York City.